WE WELCOME YOU AT VAN DEN AKKER NVM MAKELAARS
Living, housing, comfort and people! Our 4 most important fundamental pillars in life and work. These fundamentals identify our team & office and provides us with the work ethic that creates perfectionism in our everyday actions & interactions.
The housing market is a commercial market, but also a sensitive and complicated market. Through our experience and knowhow we strive to guide & lead you through this marketplace.
We would love to visit your home for a meet and greet, intake & explanation of our methods in the sales process.
If you need to purchase a property we would like to invite you to our office for a conversation about our approach and possibilities.
We can also provide you with the contact details of our excellent financial advisors from HHP Hypotheken & Verzekeringen.
Our wish is that all our clients receive a personal & highly professional service that leads to success every time! We ensure that our clients are satisfied and put their signature on the agreement with great pleasure.
That's why we pick the 4 fundamental pillars: Living, housing, comfort and people!
We are team Van den Akker NVM Makelaars.
Contact us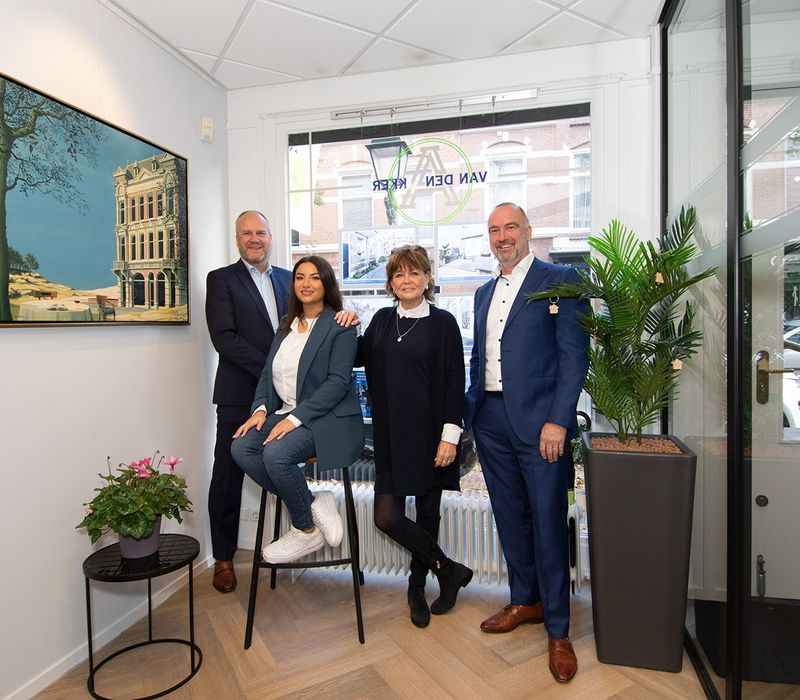 Meet our team
NVM Real Estate Agent
Gaby Ras
070 - 346 89 33
info@vandenakker-makelaardij.nl
Hello, I am Gaby Ras. Born in Gelderland an raised in Brabant. After finishing my studies in business economics in Tilburg in 1993, I ended up at Van den Akker NVM Makelaars. I have been living in The Hague since 1995 and been a co-owner of this office since 2001. I passionately believe being a Real-Estate Agent is the greatest profession in the world. I take great pleasure in helping my clients with my team. Every day is different. I enjoy helping my clients find the perfect home one day and sell their beautiful house the other day. In my free time I enjoy listening to music, going to concerts, cycling on my race bike, going on culinary trips and traveling.
NVM Real Estate Agent
Bert van Heck
070 - 346 89 33
info@vandenakker-makelaardij.nl
Hello, my name is Bert and I am the co-owner of this office for over 20 years.
After a career in the financial services sector I entered my current profession and I have never regretted it. The brokerage profession is very dynamic, partly due to the constantly changing market developments and diversity of services.
The job comes with a lot of responsibility because big decisions have to be made and customers have to be well advised. I get seriously involved with my clients and take the responsibility to always succeed.
I am a proud father of 2. In my spare time I like to hit a golf ball with my friends and enjoy nice bike rides with my wife on the weekends.

Office manager
Marieke van Eijk
070 - 346 89 33
info@vandenakker-makelaardij.nl
Hello, my name is Marieke van Eijk. I am the office manager at the Van den Akker team. After several wanderings through the country, I finally found "home" again at this office. My interest in addition to the houses, is the story of the person behind the house. Commitment and contact is sought with a personal touch. I always try to think along with my clients about the possibilities and issues that they may encounter. In my free time I spend time with loved ones, Woordprakteijk, movies, dining, good conversations and "max"imum enjoyment of F1.
Want to meet the wonderful people from Van den Akker? please contact us: